Situational Awareness Security Control (SASC)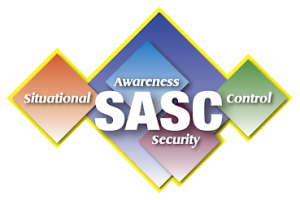 The Gold Standard
The gold standard in Situational Awareness has become Physical Security Information Management, or PSIM. It is a software platform that leverages telecommunications and today's intelligent IP based security tools, enabling IT professionals to partner with Law Enforcement & Security professionals to custom design and deploy intelligent systems that can respond in real time across a wide range of environments and Critical Incident scenarios. Our service, SASC, puts that power in the Cloud.
Physical Security Information Management (PSIM) in the Cloud
The problem with PSIM, for many would-be adopters, has been its high price tag and lengthy implementation cycle time.
It has traditionally been an enterprise solution only, meaning the entry fee has been a dedicated Server Facility equipped with state-of-the-art hardware after lengthy design work.
Situational Awareness Security Control, or SASC, has been built in the Cloud, so its affordable to the organizations who need it most – like School Systems – and it can be deployed with ease since it's already designed for a myriad of applications and implementation models.
The Importance of SASC
SASC delivers metropolitan security infrastructure to micropolitan communities through the Cloud.
Municipalities, school systems, 911 Centers, water treatment facilities and public venues such as shopping malls and museums can now afford the same Situational Awareness, the same Security Control, and the same Interoperability as much larger cities such as Atlanta and Baltimore.
SASC is a new tool for public safety officials, first responders, 911 directors, school systems, hospitals, universities and IT professionals to identify and then respond to Critical Incidents.